Travel Apps to Squash 4 Big Travel Fears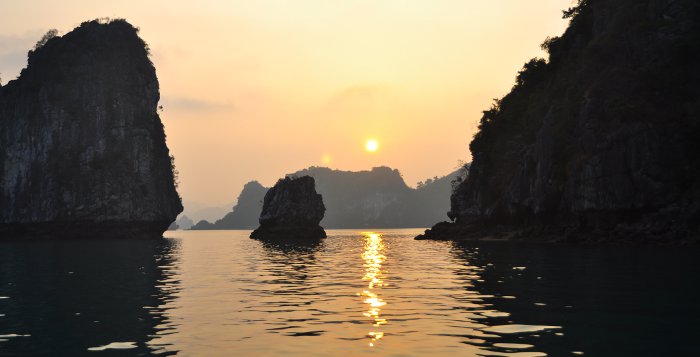 Is this the reaction you get when you tell your friends that you plan to travel abroad:
Isn't it too dangerous – what if you get lost?
How do you order a meal if you can't speak the language?
What if you get sick or hurt?
What if you lose your passport or money?
You'd think that travelling to a foreign country makes you as competent as a six year old and is tantamount to gambling away your life. It's a wonder how the millions that do travel every year get by. Well, there is a whole wide world out there that is full of dangers, extremes, mystery, and intrigue- there's no denying that.
Fortunately, there's also technology (sim cards – mobile internet – travel apps) that you can use to help you feel more grounded, safer, and less likely to get lost when you travel to those scary foreign places. Here are some travel apps and general tips that you can use to overcome some of the fears that you may have when travelling overseas.
Fear #1: It's too dangerous – what if you get lost – how do you call for help?
Bring your unlocked mobile phone and use it as a phone practically anywhere in the world. Getting a local SIM card is generally quite easy and cheap. Once you've set up your phone to be able to make calls, you can store the phone numbers of people you can contact in case you need assistance. (information on mobile operators: Destination Tech Guides)
Your Contact List
Your Hotel
Your embassy
Your tour company
The local hospital
The police
Fear #2: What if you can't communicate with the locals – what if you can't even read the menu to order meal?
English is the international language of travel- that and using travel sign language. In case you get stuck and cannot decipher the Chinese food menu from the photos, there are apps that can help you translate your order. Many do not even need an internet connection to function- just your smartphone. If you have food allergies, you can have stored and saved the words on your phone and display it to the server.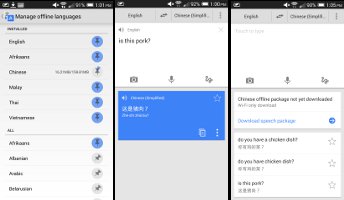 Google Translate – translate between 80 languages, with 50 of them available offline 
Google Play | Apple Appstore

Wordlens – translates real time between 7 languages via your camera
Google Play | Apple Appstore
Fear #3: What if you get sick or hurt?
You can defray some of the anxiety of getting sick or injured by installing apps that list emergency procedures, prescription medication, and even a safety button to alert your contacts in case of emergency.  You can store the numbers and locations to all the hospitals in your travel region and also change the lock screen on your smartphone to display an emergency contact and perhaps your blood type and medical allergies.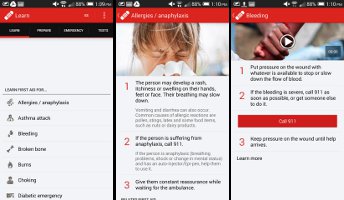 First Aid – Advice on every day emergencies.
Google Play | Apple Appstore
Drugs.com Medication Guide – Look up drug info, identify pills.
Google Play | Apple Appstore
Red Panic Button – Send automatic panic emails (requires mobile internet)
Google Play | Apple Appstore ($2.99)
Fear #4: What if you lose your passport or money?
You can get a replacement passport issued to you from your nearest Embassy- that is what they are there for and a service that is available for you as a citizen of your country. Avail of their services!
Keeping a digital copy of your passport and any visa stamps you may have received can help expedite the process of getting a replacement. A digital copy of your credit cards would help as well. You can even help safeguard the data you store by encrypting it before saving a copy onto your laptop, in your email, a memory card, or online in the cloud.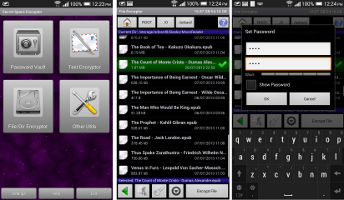 Secret Space Encryption Tool  
Google Play | Windows
And there are nearly a million Western Union and MoneyGram locations world-wide in case you need someone to wire you money. Some embassies will also lend temporary funds in case of emergency to their constituency.