Seven features of Good Travel Apps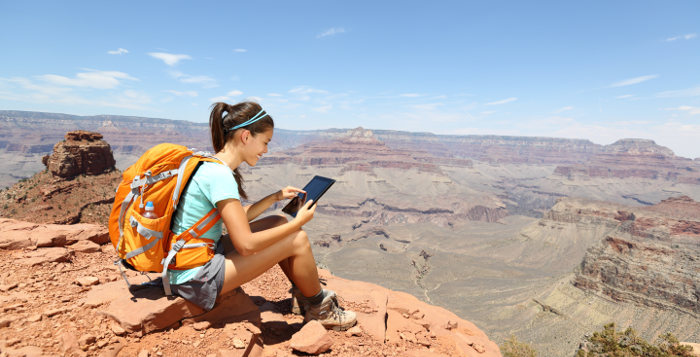 Getting completely lost when you're close to home is not a big deal. You can do many things to get un-lost and find your way back home. On the other hand, accidentally wandering into the wrong zone while travelling in Guatemala City can become a serious deal.
In both cases, using a good mapping app can help you out tremendously, and there are certainly many to choose from. Whether it's an app to help you not get lost, locate restaurants, or simply convert currencies, how do you know which app is best to install and use for that upcoming trip of yours?  You want apps that are no-nonsense, works mostly offline, and simply works well; this is especially important when you are travelling. Here are seven things to look for when choosing travel apps that will help you travel well.
Works mostly offline
You're tech savy and already have a local SIM card installed and activated on your mobile. It's subscribed to a mobile internet plan and you are good to go as far as being able to use apps that require an internet connection. However, the mobile internet may not always work when you're travelling about, especially when you go to more rural parts of a country.
That's the reason why its better to choose the app that will still work when not connected to the internet if you have a choice between two or more apps that both do a task well. For example, Tripit is better than Tripcase because you can still access your trips offline with Tripit once you have downloaded everything onto your mobile. With Tripcase, you need to be connected to the internet and log in before you can access all your trip information, something that may be difficult to do when you've just arrived at the airport in Mongolia.
Requires the fewest permissions
Apps that you find in Google Play store can and often do ask for hundreds of different permissions. If you need a simple app that converts from one currency to another, it shouldn't need permission to sift through your photos, read your contacts, or look at logs of your phone calls.
That's why a currency converting app like XE Currency (Google Play) is better than All Currency Convert (Google Play) or Currency Converter (Google Play). Inspect what permissions each app is asking for and choose the one that requires the least invasive permissions for the task at hand.
Is Trustworthy
Would you blindly install a program on your pc at home just because it's free? Of course not. Just as you'd take note of user reviews and look at the company that develops software for your laptop, take the same time to make sure that the developer of the app has some sort of presence on the web. Read through user reviews and see if the developer takes an active role in answering questions that users have posted.
Is Current and Updated
What good is an app that has been last updated in 2010 and is supposed to show you the latest places to eat? Look to see if the app and/or the content for the app is kept up to date.
An example of an app that is kept up to date is Tripadvisor's Offline City Guides (Google Play | Apple Appstore). You can download updates as often as you wish to get the latest reviews and places contained in the app.
Very intuitive / Easy to use
If it takes you ten minutes just to figure out how to navigate around an app, it's about 9 1/2 minutes longer than what your impatient travel partner is willing to wait. Look for apps that have a simple and cleanly designed interface. If an app is cumbersome to figure out and use at home, it's very unlikely you'll end up wanting to use it during stressful travel situations.
For example, this Compass app (Google Play | Apple Appstore) is very easy to read, whereas the Feng Shui Compass is (Google Play) is tricky to read. Choose apps that help simplify the task at hand.
Stable / Always work
You don't want to rely on apps that only sometimes works and sometimes even refuses to even start up. Google maps (Google Play | Apple Appstore) works reliably and is quite stable. City maps2 go (Google Play | Apple Appstore) is slower and less stable alternative.
Choose good apps, not just the free ones
Very few app are truly free. You may be able to install an app at no cost, but it might display advertisements, offer in app purchases, or even sell your data to others. Don't be afraid to choose apps that are rated well and cost a few dollars instead of always choosing ones that are initially free.
As well, if you find value in a well designed app and you've been using the free version, consider buying the pro edition of it. You'll be supporting the developers behind it, who in turn can spend more effort to improve it. It'll lead to better apps for everyone.
Image Credit: ©Depositphotos.com/(Maridav)