How to find your way back to your Hotel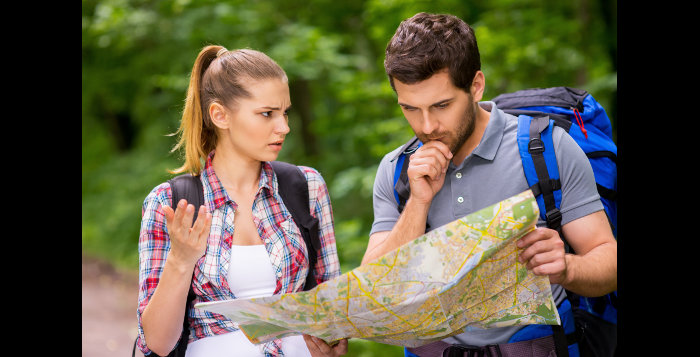 There's a certain thrill in not knowing what you may discover by taking a walk down the street. This is part of the allure of travelling to foreign places. Turn a few corners along the way and you may find that quite quickly, your whereabouts becomes unfamiliar. Now, how do you get back to your hotel?
It certainly doesn't help when all the street signs are in a foreign language or are missing altogether. And there are places where all the streets look the same as far as the eye can see. At the end of the day, you'll need to find your way back to your hotel. Here are some simple techniques for the navigationally challenged (yours truly included) to get back.
Before you Leave the Hotel
Ask the hotel if they have a local map. Chances are that if they do, they'll have their hotel prominently marked on it already. If not, have them mark it right on the map. If no map exists, pick up the hotel's business card and make sure the name and phone number is on there. Have the hotel staff draw a simple map and mark the hotel on the business card.
The name of the hotel should be written in the local language, and the phone number should belong to an attended phone- hopefully it'll be to the 24 hour hotel concierge that speaks your language. Once you have that, you can take the extra step to take a quick snapshot of the map and phone number with your phone or camera as an additional backup.
Step outside the hotel
The next step is to go outside and take a quick look around. Is the hotel located at an intersection or is there a prominent building nearby? If so, take a snapshot with your phone or camera. Also, turn around and take a snapshot of the hotel, including any signage it may have.
If your smartphone has GPS, turn on the gps and your favorite mapping program and locate yourself. Sometimes turning on the wifi (if available) will also help to localize your hotel. Once you've located the hotel on your phone with the GPS turned on, save it in the application as a point of interest and/or take a snapshot of the map.
Enable your phone to make calls
Better yet, if you have a local SIM card or have roaming turned on, add the hotel's phone number to your contacts. If the hotel does not have permanent staff 24 hours a day, try to get a contact number for a staff member that seems willing to go the extra mile to take phone calls from you in case you get lost. Having your mobile phone activated and able to make cheap local calls is really convenient and can save you lots of time and energy.
Install an App
There are even apps that are dedicated to helping you to find your way back home. You can download and install the Find My Car or Mycar Locator application on your smartphone for free. This will let you press a button to mark the location of your car (or hotel).
Find My Car
Google Play | Apple Appstore
Mycar Locator
Google Play | Apple Appstore
All who wander are not necessarily lost
With a bit of proper planning, wandering and getting lost while travelling can be a rewarding experience. Exploring a new city, especially in a foreign country, is nothing short of a controlled experience in getting lost.
Don't let it overwhelm you and become a travel fear. Instead, embrace the fact that you've prepared your way back to your hotel. So go ahead and wander, it's part of travelling and should be a positive part of your journey.
Image Credit: ©Depositphotos.com/(Denys Golub)