Paying for that Taxi Ride from the Airport
Pay the fair taxi fare
You've just spent ten hours flying from Miami, Florida to Santiago, Chile and managed to successfully clear the immigration desk. You exchange a few hundred dollars into Chilean pesos as you try and get your head around calculating what a typical meal will cost in pesos. What's the first thing you have to deal with? That's right, you have to negotiate the cost of the fare to your hotel with taxi drivers that are seasoned to duping tourists into paying exorbitant rates. What can you do to prepare for this and pay less?
Familiarize yourself with the local currency
Install a currency conversion app so that you can do conversions quickly on the go.
(XE Currency) Google Play | Apple Appstore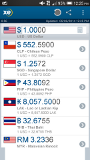 Next, you might consider creating a simple currency conversion chart that you can use as a quick reference guide and store it on your phone. I've listed the common denominations that the Chilean Peso comes in so that I can  figure out if 20,000 CLP can buy me a meal or a new television set.
USD
Chilean Peso
around $1
500
$2
1000
$4
2,000
Cheap Meal
$9
5,000
Moderate Meal
$18
10,000
$36
20,000
Price of Hostel
 Figure out a Reasonable Rate to Pay
In countries that have regulated taxi fares (and actually enforce them), the rates to different parts of the city will be clearly displayed. Whether metered or on a fixed rate, you'll know in advanced just how much it should cost to get to your destination. Go ahead now and put in your start and final destinations into a taxi fare estimator app such as Rome2rio (or website) to find out what an average fare will be. You might even want to take a screenprint of the route map and average fare that comes up.
Rome2Rio (Apple Appstore) or go to their website.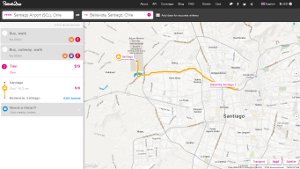 Figure out if the taxi driver knows where your destination is
You already know that it should cost around $20 USD (or 12, 000 CLP) for the fare. Next we may want to ask the taxi driver how long it will take to reach our destination. If his/her answer is ONE hour when you know it should only take 15 minutes, maybe something is amiss. Barring terrible traffic or weather conditions, their answer should be reasonable. Show them the location of your destination on the map to make sure you're both on the same page.
 Bargain Hard
I know that you're probably tired from the 10 hour bumpy flight, but you should not falter, fellow traveller! You must do your duty to bargain down the exorbitant fare offered by the taxi driver in order to keep the travel cost down for all future travellers. Spend the extra 2 minutes to haggle down the price. Show them the screen print of the average taxi fare for your exact destination and try your best to negotiate a reasonable price. All future travellers thank you for your time and service.
And also, don't get too bent out of shape when a taxi driver tries to charge you $1 more on a $10 fare.  However, do take offence when a taxi tries to charge 2 to 10 times the average fare!
So, how much did you end up paying?
There were a bunch of us gathered around a table in the hostel's lounge in Santiago. Most of us had just flown in from various parts of the world. We were drinking beers and planning for our travels around Chile. As new people joined our group, the first question we had for them was, 'How much did you pay to get to the Hostel from the airport?' The answers ranged from 12,000 CLP (~$20 USD) to an astronomical 150,000 CLP ($270 USD) paid by a group of three Aussie backpackers.
There are certainly a few spots in the world where you can't avoid paying hundreds of dollars for a taxi ride from the airport to the city (Tokyo, Oslo).  Fortunately for you, Santiago, Chile is not one of those places. Pay only your fair share.