Embracing the Tourist in You using Travel Apps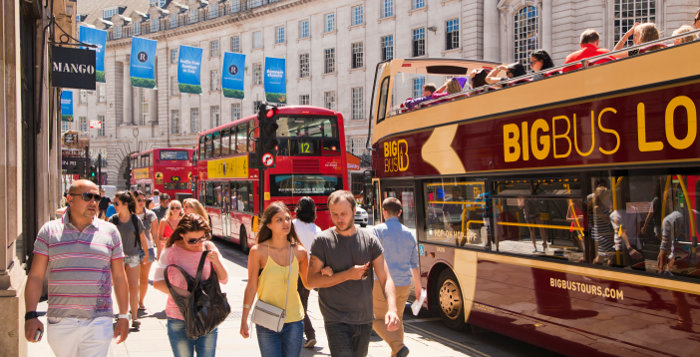 Are you a tourist or traveller? There are certainly people that claim there is. And they use this label not just for those who ride tour buses- they use it for a multitude of different travel behaviours.
Let's examine five tourist behaviours and see if there are travel apps that can be used to change them. Why would you want to do this? It's NOT to mollify the snooty travellers that so causally judge their fellow travellers. Nor is it to define that there is such a thing as a proper method of travelling.
Instead, it's to give you more options on how to get directions, where to eat, and how to take better photos. It's to give you tools that'll help you broaden your style of travel by allowing you to adapt to situations better. It'll help you to be the best tourist you can be.
Using Traditional Maps
Large and unwieldy paper maps are hard to fold and broadcasts that you are a tourist. These can be replaced with a proper mapping applications, such as Google Maps (Google Play | Apple Appstore). Install it, download the area map so you can use it offline, and then turn on the gps.
When the Google map app works, it's much more efficient in helping you find where you are and where you want to go. You'll spend less time trying to find places and more time actually enjoying them.
You'll only have to unfold the cumbersome paper map if the map application fails to work. This is known to happen, even with such a reliable app such as Google Maps. But now that you have two navigation tools, you've got two ways to get un-lost.
Taking the same photos as the millions before you at the same spot
It could sometimes take twenty minutes to frame that perfect shot of you holding up the Leaning Tower of Pisa because there are so many other tourists trying to do the same thing.
The TouchRetouch app (Google Play | Apple Appstore – $.99) allows you to edit out other people from your shots at your leisure after you've already taken the photo. Use it to reduce the time it takes you to take photos. You'll be helping to alleviate congestion at overcrowded tourist sites.
Eating at fast food chain establishments
Avoid eating at fast food chains when you travel, for this is what tourists end up doing too often. While you're at it, you can avoid eating at the top 10 restaurants that are considered tourist traps. How?
Let's say you're in Paris. Install Tripadvisor's Paris City Guide app (Google Play | Apple Appstore) and look up what the most popular restaurants are- and then intentionally avoid them. Instead, pick a less popular or even unlisted restaurant.
You'll notice that you'll be eating at places with less tourists around. Plus, less touristy restaurants may be better value for the money since they won't always have the built-in tourist tax applied on top of what a meal would normally cost.
Whether you want to avoid the tourist trap restaurants is up to you. Many of the restaurants that are at the top of the recommended lists in Tripadvisor are probably pretty good places to eat. But at least now you'll know how to distinguish the touristy from the less touristy restaurants and choose between the two.
Dressing like a tourist
Nothing screams tourist more than wearing a t-shirt that proclaims your love for the city you are visiting. At least you know what your international size is to get a proper fit, right?
Use Lazy Clothes (Google Play) or Good Sizer (Apple Appstore – $1.99) to figure out your size wherever you go. Sizes for pants, shirts, and shoes are different depending on what continent you happen to be in. A good rule of thumb is that if the your body build is quite different from the locals, you may have a very difficult time shopping for clothes that fit well.
Not have a clue about the local Customs and History
The final deadly sin that Tourists are accused of is that of being oblivious to local history and customs. This is easily remedied by reading a bit of history about the places you will be visiting by using My World Heritage Passport (Google Play) or the Unesco app (Apple Appstore – $3.25 USD). And after you've brushed up on the customs with the Culture Compass App (Google Play), you'll know such things as which hand to eat with and how to greet locals.
People won't expect you to master all the cultural intricacies of a place, as that sort of thing can only come about after you've spent some months or years there. At least you won't be committing many major faux pas. And don't consider being labelled a tourist such a bad thing. We are all tourists in somebody's eyes.
Image Credit: ©Depositphotos.com/(instone)